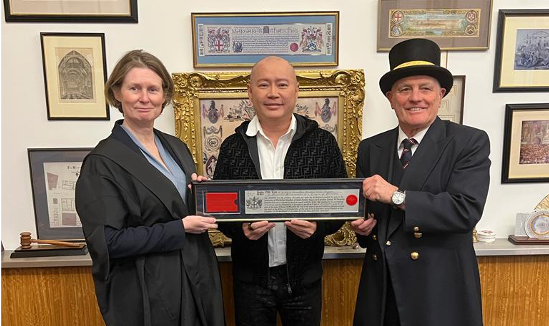 On the 6th December 2022, in the Guildhall located in Central London, Master Lim Say Fon received the prestigious "Freeman of London" award. The first Singaporean is to receive the award is the late first Prime Minister of Singapore, Mr Lee Kuan Yew on 15th July 1982, followed by current Prime Minister of Singapore Mr Lee Hsien Loong on 28th March 2014 and the third is Singapore Senior Minister Mr Tharman Shanmugaratnam on the 13th June 2019. Master Fon is the fourth Singaporean to receive this award.
Master Fon is the first Chinese student endorsed by Japanese Kodo Master Hidetsugu Tanaka-sensei and received the 8th generation lineage of Japanese Kodo. He is also a recipient of international achievements from The China International Highest Agarwood Association, The China Aromatic Incense Therapy Culture Institute and The China Aromatic Incense Association. He has also been nominated as an honorary professor for the Institute of Brain Chemistry and Human Nutrition at the Imperial College of London.
Having visited Nepal and seeing some of the living conditions of students staying in boarding schools while studying, Master Fon pledged to improve their living conditions and as such for the past year, Master Fon has donated funds to build a new hostel for the needy students, thus providing better living conditions for them to let the students study in a more conducive environment.
With his products by Shambhala Kodo, Master Fon has also helped many people who used the products. Many of the users have given testimonials, such as improved general health, helped with insomnia, depression issues and other health issues. Most have also experience better mental and emotional state and embraces daily life with more positivity after using the products that Master Fon has created for the well-being of all the users.