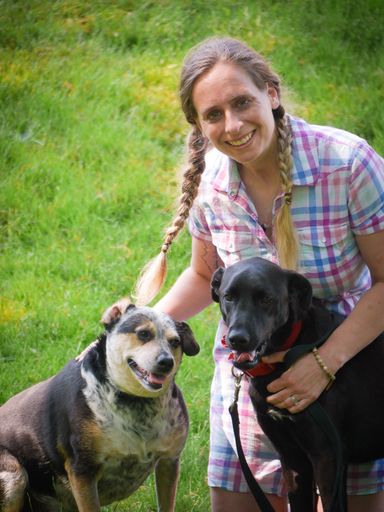 Hi Nancy, tell us a bit about yourself.
I am an animal communicator and medium originally from a farm in Northern California, now living in New England with my two kids, two cats, two dogs, and my husband. I have worked with animals in over 32 countries, all fifty States, and all Canadian Provinces. I have helped find 101 pets since 2020.
What exactly is an animal communicator and what do they do?
It's exactly what it says – we communicate with animals. What an animal communicator does extends beyond the novelty of finding out your animal's likes and dislikes into heavier subjects, like the sources of behavioural abnormalities, sudden mental or physical changes and illness.
Some also offer the service of finding lost pets, but that is a bit more specialized. People will call a communicator to find out why their horse keeps bucking, or why their cat won't pee in her litter box. They'll schedule a session to find out if their dog is in pain. They'll reserve some time if their animal is dying and they just need help letting go.
What is your prominent/favourite memory after working with animals for so many years?
I have worked with all types of animals. Some of my most memorable include a missing goat that crossed several towns and was terrified of getting caught, a ferret who ate a certain semi-legal snack with its owner, and a flying squirrel that insisted on more shelves so it could jump around the house without touching the floor.
Do you have a favourite animal you have worked with?
I don't have a particular favourite, as all animals I work with touch me in some way. Cleo the dog was the first dog I helped walk across the rainbow bridge (helped her pass). Because of her, I work with pets almost daily on honouring their final wishes, and helping them complete their bucket list.
You have also led and participated in animal rescue efforts, could you shed more light on the same?
I work with animal rescue groups pro bono across the world including rescue groups in Pakistan, Australia, the United Kingdom, Canada, the United States, and Columbia. I work with fitting the pets in an ideal home to avoid animals being returned.
What are some of the most pressing animal welfare concerns for you right now?
In terms of animal welfare concerns, what is apparent is that we do not have enough laws in countries across the world to protect animals. We seem to treat animals as second-class citizens, and it is showing in their care. Veterinarians have one of the highest burnout rates as well as the highest suicide rates of any health care professionals. I believe this is partly because we do not enforce nor value animals the way they need or deserve. Even a simple law like requiring people to stop if they hit an animal on the road would help.
What is the most uplifting animal rescue/release story you have been a part of or heard of?
One of the most uplifting animal rescue stories I have been honoured to be a part of is the one I am working on now – a dog that was found in Romania just across the border from Ukraine. She was seen being dropped off by a family fleeing the country at a car park. She waited for her family for two days before my client found her. Luna was pregnant when she was found and she just had puppies. Because of the influx of animals and people into Romania, right now we are trying to get Luna's puppies out of the country and safely adopted out.
Do you feel people should spend time volunteering with animals, and if so, why?
For me I get the greatest satisfaction from being able to help and honour animals because they don't have a voice in their care. They are completely helpless to our whims. There is so many different things people can do to help, from picking up litter, to donating cat or dog food to the local animal shelter. People don't need to be loud in their approach. Little things can go a long way.
Anything else you'd like our readers to know?
My motto is, "faith is believing the impossible is possible." Believing that all of us have the ability to hear our animals just by listening to what they are trying to tell us, will go a long way. Simply by asking your pet how they are feeling and listening for whatever answer comes can start your journal in communicating with your pet.
You can learn more about my work at my website, Instagram, and TikTok (links given at the bottom of the article).
Links and references to Nancy's social media are given below.
Links:
Instagram: https://www.instagram.com/nancymelloofficial/
Website: www.nancymello.com
TikTok: https://www.tiktok.com/@nancy.mello