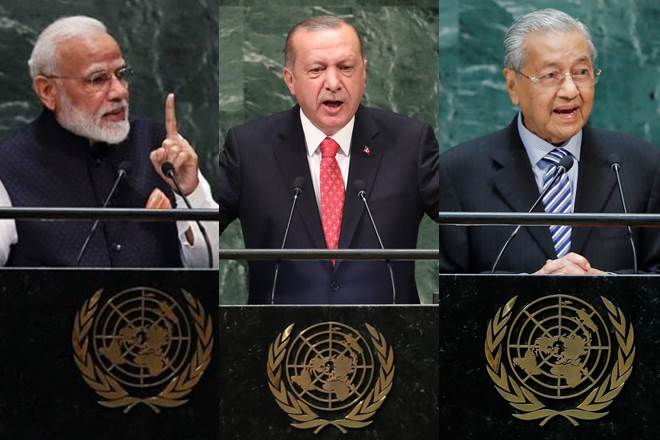 According to a Reuters report, India is considering restricting imports of products from Malaysia including palm oil, in reaction to the Malaysian PM criticizing New Delhi for its actions in Kashmir.
As reported by multiple Indian and international news sources, the proposal is still under consideration. But is likely to be officially announced in coming weeks.
The Malaysian Prime Minister Mahathir Mohamad said last month at the UNGA that India had "invaded and occupied" Jammu and Kashmir and asked New Delhi to work with Pakistan to resolve the issue.
This sparked reactions across India with the public calling for strict actions against Malaysia.
India is the world's largest importer of edible oils, and has been the biggest buyer of Malaysian palm oil. Overall palm oil imports from Malaysia to India account for over $1.3 Billion. India is looking forward to substitute Malaysia with supplies of edible oils from countries like Indonesia.
Turkey's $2.3 billion deal could be scrapped
A $2.3 billion deal to build fleet support vessels in collaboration with a Turkish shipyard has also come into question after security concerns were raised over the firm, including links with Pakistan.
Without citing any reason, speaking to Financial Express Online on condition of anonymity, a senior official confirmed that "The contract for the 45,000-ton fleet support ships (FSS) for the Indian Navy with the Turkish Company could be (indefinitely) delayed."
"It could be a fall out of Turkey cosying up to Pakistan and raising Kashmir issue at the recently concluded 74th United Nations General Assembly (UNGA)," said the officer.
The Turkish President Recep Tayyip Erdogan had raised the Kashmir issue and criticised the international community for "not paying attention to the situation". Shortly after these comments came, the Indian Prime Minister Modi met with leaders of Turkey's strong rivals and close neighbours –Cyprus, Armenia and Greece.
India is also considering to limit some of its imports from Turkey. The bilateral trade between India and Turkey currently stands at $7.5 billion, and is expected to reach $10 billion by 2021.