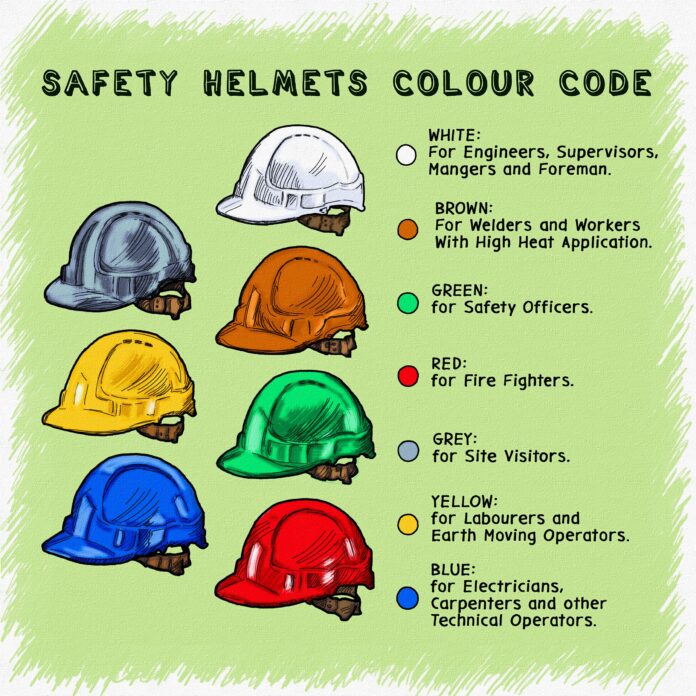 Safety helmets are important when working on a site. However, their role is not just limited to safety. You might have seen people wearing different colors of helmets, and for a very good reason. The color conveys the notion that which person holds certain responsibilities and carry out different roles. This makes it easier to identify new on-site and won't like to reach out to a certain person.
Safety Specifications:
There are some safety features associated with helmets and must meet the criteria to be used in the field.
Penetration Resistiveness As Might Hit Against Surfaces And Should Not Be Easily Penetrated.
Shock Absorption Resistance To Prevent Any Injuries.
Water Absorption Material
Heat And Electrical Resistance
Although here we will discuss the general guideline for color code, this may differ depending on your site and agreement contract, so it's recommended that you go through the contract in detail before using them.
Color & Usage:
White:
Used By Engineers, Managerial Staff, And Supervisors
Blue:
Technical Operators Like Electricians And Mechanics Use This Color Code
Green:
Safety Officer Personals Commonly Used Them.
Red:
This colour is specific to firefighters
Yellow:
The Labors Are Required To Wear This Color Code
Brown:
Used In High Heat Applications Like Welding Stations
Grey:
Visitors Are Required To Wear This Color Code To Distinct Them From Managerial And Technical Staff.
Article by Salah M. Al for Epistle News