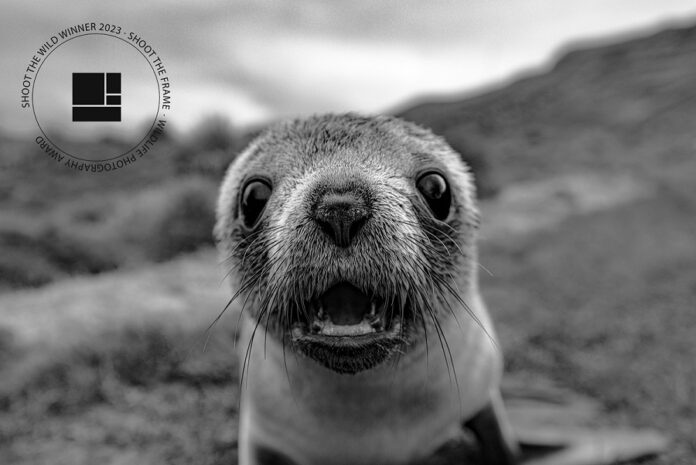 Artem Shestakov is a nature photographer who is known for his stunning nature, landscape and wildlife images. He has won several awards for his work, including the Shoot The Frame Wildlife Photography Award in March 2023. Shestakov has traveled extensively to capture images of wildlife and natural landscapes around the world. Through his photography, Shestakov seeks to promote the beauty and importance of the natural world, while also raising awareness of environmental threats facing our planet.
Artem Shestakov recently embarked on an exciting journey to Antarctica with the Poseidon Expedition to capture and showcase the beauty of the region but also sheds light on the impact of global warming on this fragile ecosystem. On this trip he captured this incredible portrait of Fur Seal.
The population of Antarctic Fur Seals on South Georgia Island is the densest marine animal population on the planet.
Antarctic Fur Seals are one type of nine species of Fur Seals that exist worldwide. They were almost hunted to extinction for their fur (hence the name "Fur Seals"). The near extinction of another animal – baleen whales – may be the main reason the diminutive Antarctic Fur Seal population bounced back, because there was a huge reduction in competition for krill. At the turn into the 20th Century only a few hundred Antarctic Fur Seals were found on South Georgia Island due to excessive hunting. Now the species numbers in the hundreds of thousands if not millions during the breeding period.
"The Shoot The Frame" Photo Awards were created in 2012. Every month we have the same three contests themes; portrait, landscape and wildlife. The themes don't change – you can see the magnificent photography from our past finalists and winners on the home page of Shoot The Frame.
Shoot The Wild is STF's monthly international wildlife photography award. There is something special about wildlife photographers and the imagery they are dedicated to capturing. We can't get enough of it. Shoot The Frame members have been sharing their wildlife imagery with the community since 2014.