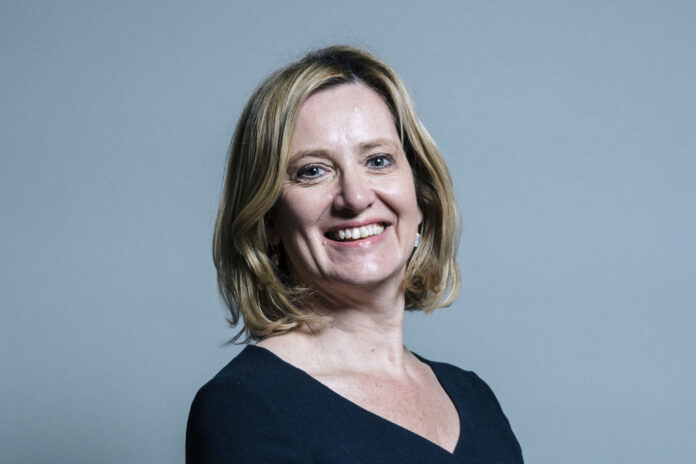 'Any candidate needs to factor that in as well into their strategy for the next few months,' said the cabinet minister.

Cabinet minister Amber Rudd has revealed she believes there a sufficient number of Tory MPs willing to topple a government intent on leaving the EU without a Brexit deal.
The remarks from the work and pensions secretary came as the former Conservative chancellor Ken Clarke vowed to take the extraordinary step as a last resort if "some idiot was sailing onto a no-deal Brexit".
A second senior Tory, Dominic Grieve, told the House of Commons last week he would vote against the government in a motion of no confidence in the same circumstances.
Pressed on whether she would take the drastic action – and risk a general election being called – Ms Rudd said it would be a "step too far" for her.
But she continued: "There are a number of colleagues who have gone public saying they would consider doing that and there are a number I know of privately who say that.
"Any candidate needs to factor that in as well into their strategy for the next few months," she told BBC 5 Live's Pienaar's Politics.
Asked if the numbers are there to bring down a government, Ms Rudd added: "I believe they are, yes."
Earlier on Sunday, the work and pensions secretary also rubbished suggestions that the new occupant of Downing Street could prorogue parliament in order to force through a no-deal exit – locking MPs out of the process.
Two leadership contenders  – Dominic Raab and Boris Johnson – have refused to rule out the scenario.
Rory Stewart, another candidate in the Tory leadership contest, vowed to "bring down" Mr Johnson as prime minister if tried to plough ahead with a disorderly exit and no consent from parliament.
He compared the use of "prorogation" – which would require a PM to ask the Queen to suspend parliament to a date chosen by the government – to Charles I's dismissal of parliament in 1629, which paved the way for civil war.
Responding to claims, the work and pensions secretary said: "That is absolutely outrageous. The idea of leaving the European Union in order to take back more control into parliament and to consider closing parliament in order to deal with that is the most extraordinary idea I've ever heard."
She continued: "I don't use the same colourful language as Rory, but I certainly feel just as strongly as he does. It is a ridiculous suggestion to consider proroguing parliament. For a start it would involve approaching the Queen and nobody should consider doing that.
"We may have our difficulties around arriving at a decision but the idea of involving the Queen is completely wrong."
Ms Rudd, who is backing the foreign secretary Jeremy Hunt in the Conservative leadership contest, also insisted it would be a "mistake" for a new prime minister to say "we are definitely leaving 31 October and to lean into a no deal".
Asked whether she would accept a job in the cabinet from Mr Johnson if he wins the Conservative leadership contest, Ms Rudd replied: "I think it's too early to say that, it would be too presumptuous of me to think about anyone else forming a cabinet and not knowing what place you are going to take."
Pressed on her famous snipe at Mr Johnson during the 2016 referendum campaign – that he was "not the man you want driving you home at the end of the evening" – Ms Rudd said: "I am still thinking very carefully about any lifts home from Boris."