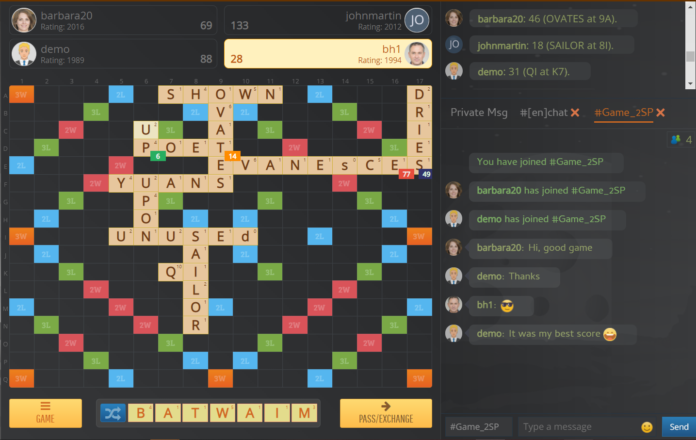 Word games are incredible pieces of interactive entertainment. They have been a staple of home entertainment for years. From classics such as Boggle and Scrabble to obscure homebrewed on itchio, there are many ways you can experience these incredible distractions. The rules are simple, and the replay value is never-ending. In short, they are timeless.
Yet, what they truly lack is a social aspect to it. There's a reason why board/word games are better played in pairs. Having someone right next to you to share and analyze strategies or even compete against all elevates the experience – this is what Rackword is all about.
The Brilliant Design of Rackword
Now, what is this Rackword? Some might ask. To put it simply, it is a unique Scrabble-like game that comes bundled with a well-thought-out and executed online element. As we already established, board games are better played with friends and family and not only against an A.I. opponent. Rackword takes this idea and pairs it with an online matchmaking system.
Whether you use your phone on the bus or laptop at the office, Rackword allows you to enjoy a game of words with real people effortlessly. The game eliminates the hassle of gathering people and helps you connect with like-skilled players just by pressing a single button.
The gameplay process is also enhanced from its offline counterparts. You no longer have to wait hours on end for a person on the other side of the screen to form their decision. The three-minute time limit will make the real-time game go faster, as well as more dynamic since there's no time to develop that perfect plan.
And if that wasn't enough, you can team up with people using different modes. Players get to choose from multiplayer games with up to 4 players, a team-based 2 vs. 2 modes, and even 2 players vs. CPU mode. The A.I-controlled opponent is fair and square, and no way feels like it is rigged. Each gameplay mode has a chat system that you can use to communicate with teammates, and if you are worried that you'll get stacked against a seasoned player, the ranking system got you covered.
Speaking of ranking, if you are confident in your skills, you can adjust the matchmaking system in the options menu. In the options menu, you'll find a wide range of themes and board sizes you can pick to customize the game to your taste. Finally, there's even a stats section you can use to see how well you are doing on a game-by-game basis.
A Simple Game Turned Unique
A robust social aspect powered by a dynamic gameplay element – that is the underlying philosophy of Rackword. If you are looking for a free word game without a mandatory registration process, Rackword is for you.