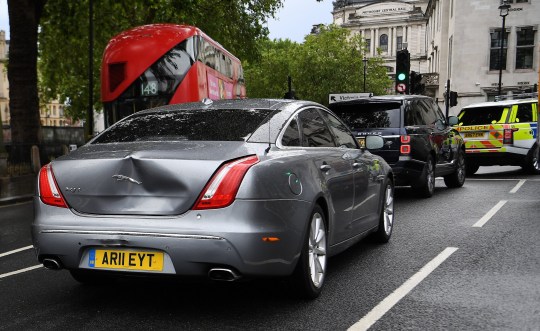 Prime Minister Boris Johnson encountered a minor car crash in Westminster after his Jaguar was hit in the rear by his own security team after a protestor jumped out in front of the Prime Minister's car.
Nobody was hurt in the incident – including the PM.
After the protester ran into the road, the front car then stopped suddenly, forcing the Range Rover behind to hit it, which would have been carrying his security detail.
The vehicles then drove off, with a dent visible in the back of the Prime Minister's Jaguar.
A policeman riding on a bike as part of the motorcade put his arm out to the PM's cars to signal they should stop.
Police then managed to restrain the man before he could get close to the PM's vehicle – and wrestled him to the floor.
He was later removed from the scene by several officers.