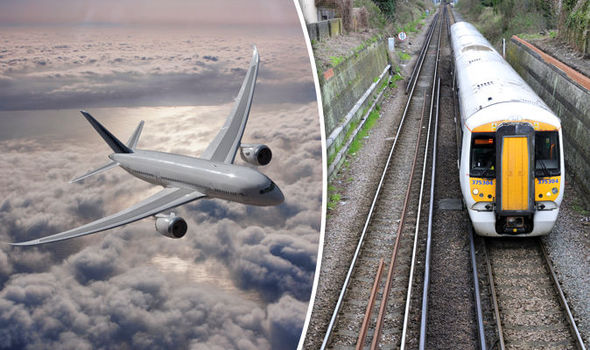 Choosing to fly rather than taking the train could save you hundreds of pounds as formulated by a new research.
According to the research, it is because 60 per cent of long-distance journeys in Britain are cheaper by plane than rail.
The analysis, carried out by the Times, showed that commuters could save up to £104 per return journey if they took to the skies.
This means that environmentally-conscious Brits will find themselves out of pocket if they choose to get the train.
Last year, 23 million passengers took domestic flights in the UK, producing greenhouse gas emissions equivalent to 1.5 million tonnes of CO2 each year.
But the increasing cost of rail travel is forcing many Brits to fly when getting the train would be better for the environment.
The biggest cost discrepancies were for travellers going from Bristol to Inverness.
A return rail ticket costs a whopping £153, while a return flight is only £49 – a saving of 68 per cent.
The same journey but starting in Inverness is £103 cheaper by plane.
To crunch the data, the Times analysed domestic flights between Britain's 20 mainland international airports.
It compared the lowest return fares in the past month, available through Skyscanner, to the cheapest advance train return currently available on the closest equivalent route, using the Trainline.
All of the flights in the research were direct ones, but many of the rail routes required multiple changes, meaning the flights are quicker and more convenient, as well as being cheaper.
The most popular domestic route is London to Edinburgh.
The cheapest possible rail return is £53 while the cheapest return flight is £31 – saving 42 per cent.
If you take a quick train to Scotland, the prices leap up meaning the savings by air are significantly higher.
Rail fares rose by three per cent this year, despite the worst punctuality for more than a decade.
And earlier this year, investigations discovered that Network Rail bosses were ordered to fly rather than take trains because it is cheaper.
Bruce Williamson, from the campaign group Railfuture, told the Times: "With the environmental cost of rail travel being so much lower than flying, the government should be encouraging people to take the train.
"Instead they're pricing people off the railways by allowing fare increases in real terms year on year."