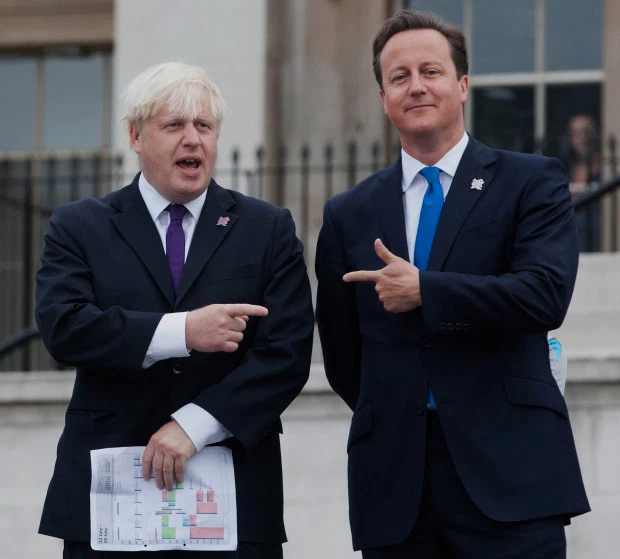 The ex-Tory leader says BoJo threw his weight behind the campaign even though he was "certain the Brexit side would lose".
The former PM says Boris wanted to "become the darling of the party" using the referendum to ensure others, including Michael Gove, did not "win that crown".
He says: "The conclusion I am left with is that he risked an outcome he didn't believe in because it would help his political career."
His concerns about sovereignty, Cameron claims, were "secondary to another concern for Boris: what was the best outcome for him?"
As Boris tries to strike a Brexit deal with the EU, Cameron says Johnson privately thinks there could be a "fresh negotiation" followed by a second Brexit vote.
In his memoirs, Cameron said that when BoJo attacked him over failing to cut immigration he said it became "open warfare".
He added: "The rules of engagement had been abandoned."
Johnson backed Leave despite being offered the role of Defence Secretary.
In extracts of his long-awaited memoir serialised in the Sunday Times, Cameron also labelled Brexiteer Michael Gove, who was once a close friend, a "foam-flecked Faragist".
On Gove, the former PM said: "One quality shone through: disloyalty. Disloyalty to me and, later, disloyalty to Boris."
And he said Mr Gove's claim that the public were tired of experts made him "an ambassador for the truth-twisting age of populism".
It came after the ex-leader revealed he once called his one-time close friend "a w****r".
He made the revelation while lifting the lid on a major fall out when Gove refused to budge as Education Secretary during the 2014 Cabinet reshuffle.
Cameron said attacks by Priti Patel, who is now the Home Secretary, on his government's immigration record "shocked me most" but he did not want to fire her and create a "Brexit martyr".
He also says that Dominic Cummings, who is now a special adviser to the government was part of a "cauldron of toxicity" with Nigel Farage.
Cameron, who has refused all interview requests since leaving No10 in July 2016, opened up in an interview with The Times ahead of the publication of his long-awaited memoirs next week.
While insisting he was right to hold the EU referendum, Cameron issued a grovelling apology for the chaos it had plunged Britain into.
Addressing his landmark decision on whether to hold the nationwide vote, Cameron said he still believes it was right because a referendum was "inevitable".
Before Cameron launched his blistering attack, Boris said he would always admire him.
Boris added: "Absolutely nothing that David Cameron says in his memoirs will diminish the affection and respect in which I hold him. He has a very distinguished record and a legacy to be proud of."
Cameron has been reportedly paid £800,000 for his memoirs, For The Record, which hits the shelves on Thursday. He has said profits will go to charities.