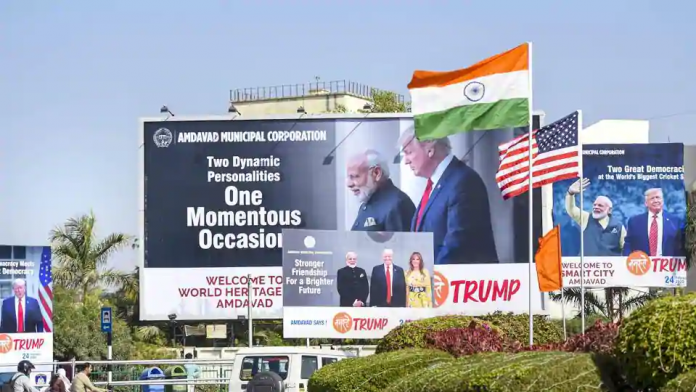 Over 110,000 in world's biggest cricket stadium, 28 stages for cultural performances, ceremonial welcome at President's House and 50,000 would line the streets to greet the US President.
If there's one world leader who has the inside track for organising magnificient public receptions Donald Trump revels in, it has to be Narendra Modi – the Indian prime minister who's welcoming the US President in his home state on February 24th.
The Indian government is pulling out all the stops, with an expense of over US$14 million, to give an unforgettable public reception to Trump and his wife Melania on their two-day visit. Who will also be accompanied by President's daughter Ivanka Trump, son-in-law Jared Kushner and a galaxy of top American officials.
The first day of Trump's jam-packed itinerary includes a visit to Mahatma Gandhi's Sabarmati Ashram – where he will receive the gift of a spinning wheel – followed by an exuberant mass rally with Modi to open the world's largest cricket stadium. Concluding the first day in India will be an evening visit to the Taj Mahal.
Trump has repeatedly made tweets expressing his excitement over India trip.
Look so forward to being with my great friends in INDIA! https://t.co/1jdk3AW6fG

— Donald J. Trump (@realDonaldTrump) February 22, 2020
When Modi came to power in 2014, his overt investment in the US could not be missed. Mr Modi built a solid relationship with Trump's predecessor, Barack Obama and over the past three years, has assiduously worked on Trump.
Going beyond the trade difficulties, the Modi government moved from crafting a joint strategic vision for Indian Ocean and Asia-Pacific in January 2015 to aligning their Indo-Pacific policies by 2019. In 2018, the Pentagon articulated what it called a "three-pronged" strategy of maritime cooperation with India — a shared vision on maritime security, upgrading bilateral maritime security partnership and collaborating to build regional capacity and improve regional maritime domain awareness. In the past few years, India has built its own complementary strategy.
IndiaToday reports Team Trump will be accorded a traditional Indian welcome. It will start with a rangoli made from flowers and other biodegradable materials. What remains unconfirmed is that an elephant is also going to be part of the welcome party, as it not only represents India, but is also the mascot of the Republican Party.