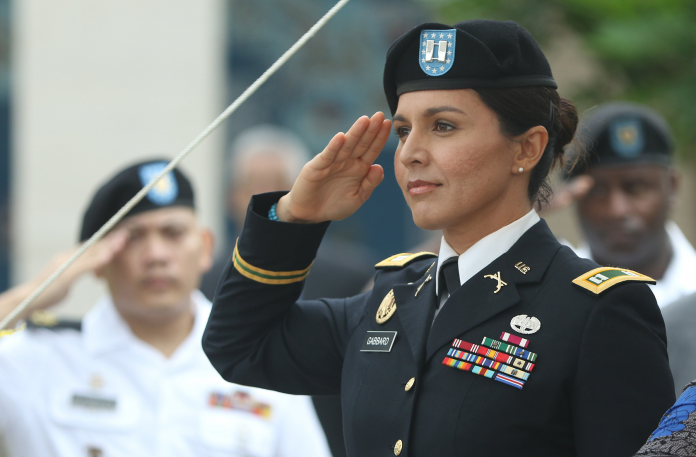 Who is Tulsi Gabbard?
38 years old
Born in American Samoa; currently living in Kailua, Hawaii, and Washington
Four-term congresswoman representing Hawaii's Second District, first elected in 2012
Over 16 years of public service
Was deployed in the Middle East (Iraq / Kuwait); Currently serves as Major in Army National Guard
The unusual 2020 candidate
Doesn't fit any conventional political profile; appeals to both Democrat & Republican voters
Stands in contrast with Democrats on many points, including impeachment
She supports abortion rights (first Dem to support abortion limits), Medicare for All, legalization of marijuana, and same-sex marriage in the United States.
Gabbard initially excited the left because she was an outspoken economic progressive and a veteran who objected to American intervention abroad. She was also the first Hindu member of Congress. Nancy Pelosi called her an "emerging star"; MSNBC's Rachel Maddow predicted she was "on the fast track to being very famous."
However, in the following years, Gabbard staked out foreign policy positions that shocked her allies. She joined Republicans in demanding that President Obama use the term 'radical Islam.' She has been pitching to bring back American soldiers back to home and wants America to "leave the world alone." – she opposes military interventions abroad with a rare credibility of intent.
Among presidential candidates, Gabbard is a pioneer with a unique life story – as much as Barack Obama was when he first emerged on the national scene.
Both Obama and Gabbard grew up in Hawaii. Both had mothers from the midwest – Obama's from Kansas, Gabbard's from Michigan. But while Obama's father was African, Gabbard's father, a polarizing local Hawaiian politician named Mike Gabbard, grew up in American Samoa, the tiny US territory in the South Pacific Ocean, where Tulsi Gabbard and her four siblings were born. She is the first American Samoan and the first Hindu member of the US Congress, and she was the first representative to be sworn in on the Holy Bhagavad Gita.
Gabbard has also volunteered for a 12-month deployment to Iraq, where she served in a combat zone as a medical operations specialist and a military police officer. After graduating with distinction from the Alabama military academy's officer candidate school, she signed up for a second deployment, to Kuwait.
Gabbard describes her military service as a life-changing moment. There were personal consequences, including the dissolution of her first marriage, which she has attributed to the duress of overseas deployment. She credits her deployment with shaping her foreign policy views. It also, she says, changed her mind about other things.