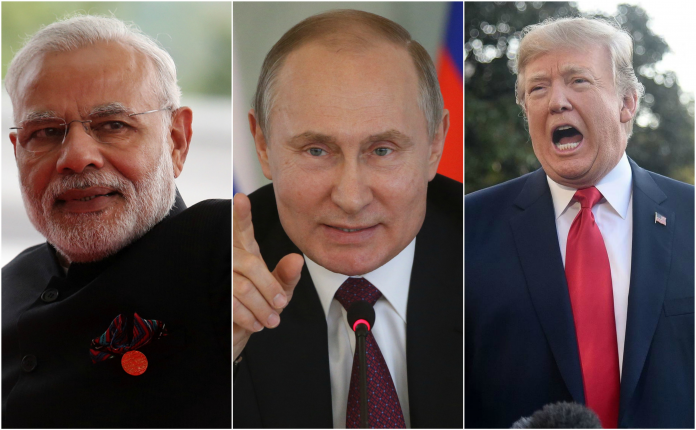 On 22nd September, the Indian Prime Minister Modi was on his US tour and held a huge rockstar-like event in Houston – 'Howdy, Modi!'. Rare, President Trump too was a part of this event and addressed the public for almost half an hour receiving multiple standing ovations from a cheerful crowd of over 50,000 Indian-Americans.
Speaking at the event, Modi hailed President Trump's economic policies. Endorsing Trump, Modi said "He has already made the American economy strong again. We in India have connected well with President Trump." He further endorsed the President for his 2020 re-election bid saying "Abki Baar, Trump Sarkar."
The phrase means. "This time it's the turn of the Trump administration." It is an alteration of the slogan that Modi's party used ahead of his elections in 2014, 'Ab ki baar, Modi sarkar.'
Mr Modi is not the only world leader to have lavished praise for the President. Speaking at an event in Moscow, the Russian President Putin recently said "Mr Trump has carried through the tax reform that has propped up the economic growth in the U.S. at a high level and the imports to the United States have increased."
"Under President Obama, our mutual trade from $30 billion fell down to $20 billion, but in two years of Trump's presidency it rebounded to $25 billion per annum. This is what matters to us and what we take into account," he continued.
Putin and Modi aren't the only leaders to have praised the President's economic policies. The Prime Minister of Israel, Benjamin Netanyahu and Australia's Scott Morrison too have praised the President's economic and political priorities.
However, many within the country aren't happy with the President's policies. CNN's Frida Ghitis published an article titled 'America-first trade policy is crushing the global economy', and then accepting in her own article that this is mainly because of a global slowdown – taking place because of a wide variety of factors.
Prospect's Robert Kuttner writes "Economic growth is clearly slowing. Manufacturing output is down, as are exports, thanks to Trump's trade cold war with China." Despite a 50-year low unemployment rate and a strong GDP growth.