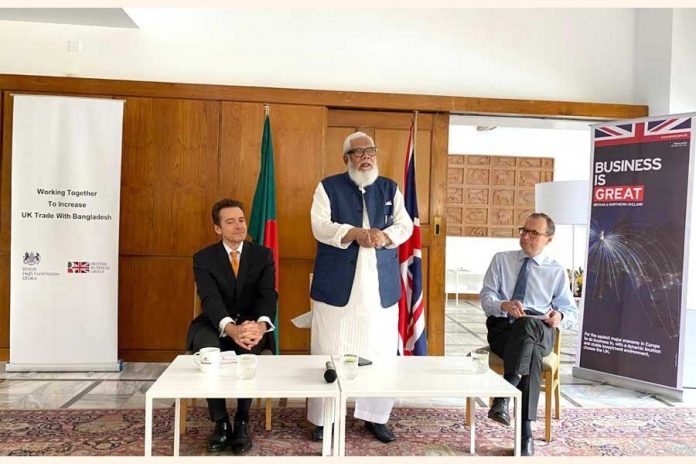 British Business Group (BBG) recently organized a breakfast meeting to discuss trade between the UK and Bangladesh— for encouraging growth and provide a better social environment for business networking.
The meeting was co-hosted by Francois de Maricourt, the Chairperson of the BBG and CEO of HSBC Bangladesh and Robert Chatterton Dickson, the British High Commissioner. Salman F Rahman, Private Industry & Investment Advisor to the Prime Minister Sheikh Hasina was present as the guest of honor at the meeting.
Amid COVID-19 outbreak, the world trade has already come to a halt, which has led to a economic crisis in both Europe and the US. This, in turn, is most likely to impact Bangladesh's external trade as well.
In his opening remark, Salman F Rahman, who is also one of the most successful Bangladeshi businessmen, spoke about the Government's initiatives for developing the private sector and the impact on country's trade due to pandemic COVID-19. He highlighted a number of things done by the government that would help business investment, including; digital transformation, expanding the capital market, easing the functioning of the central banks. He said that our economy is doing well but there is likely to be a demand uncertainty due to the spread of the pandemic in Europe and North America, the major markets for Bangladesh.
The co-host Robert Chatterson Dickson, in his welcome address, mentioned that the UK is currently the third largest destination for Bangladeshi exports and this meeting is to reaffirm two country's strong economic ties. Furthermore, it was the first BBG event since the UK left the European Union (EU).
Since the UK has now become a sovereign nation, it could pursue an independent trading relationship with Bangladesh. The BBG could be a crucial partner in that relationship, said Robert Chatterton.
Salman F Rahman's initiatives for encouraging international trade were welcomed by the BBG Chair, Francois de Maricourt. He was also the strong advocate of Bangladesh's trade potential and expects the government to ease the flow of business in the country for better business opportunities.