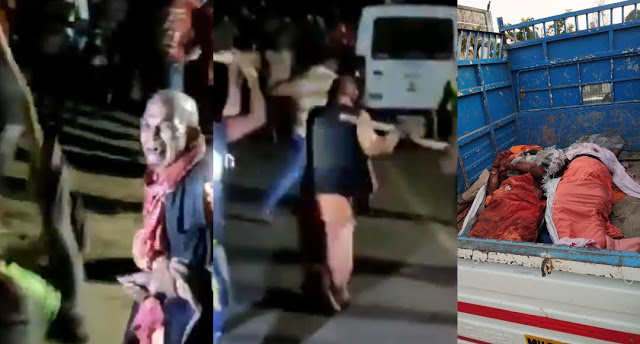 In a disturbing incident, 3 people – two Hindu saints of 70 and 35 years of age, along with their car driver – were lynched to death in Palghar, Mumbai. A mob of over 100 villagers attacked the trio who were travelling to the city of Nashik to attend a funeral.
The deceased have been identified as Sushil Giri Maharaj, Jayesh and Naresh Yalgade, residents of the Kandivali suburb of Mumbai. The trio had apparently rented a car and was travelling to Nashik to attend a funeral.
According to some reports, the crowd 'deemed' the trio for being kidnappers. Although the police have denied the claim citing that the crowd was hell-bent on killing the three. Just a few days ago, four policemen were attacked in this very district.
(Warning: This content may be disturbing to some viewers. Viewers' discretion is advised)
.@OfficeofUT &his consort @RahulGandhi,need to see this video&answer two things👇

Despite #lockdown,how could a mob of over 110 manic people gather at #Palghar& #lynch 3 people,including 2 #Sadhus,to death?

More importantly,why were Police men present there,mute spectators?Why? pic.twitter.com/EvXYjNsdH7

— Sanju Verma (@Sanju_Verma_) April 19, 2020
The crowd also took away the money & the bellongings that the trio was carrying. Police vehicles were also attacked by the crowd. An investigation has been ordered in the case and about 110 people have been taken into custody by the police.