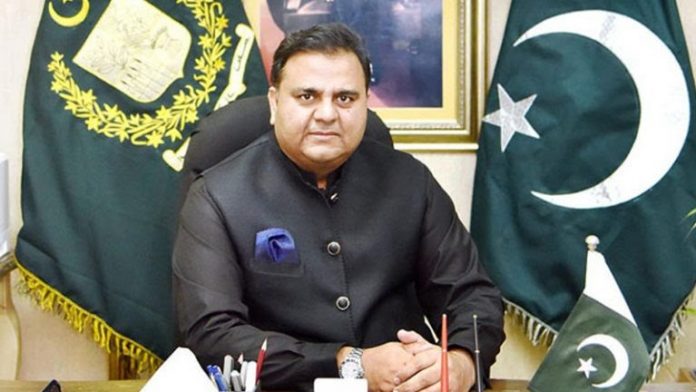 As India's ISRO was ready to create history by landing its rover on moon's south pole. Pakistan's 'Science & Technology Minister' made a series of tweets when the Chandrayaan-2 lander Vikram lost contact with ISRO's control centre.
In one of his tweets the minister said "Please sleep. The toy landed in Mumbai instead of landing on the moon".
"Aww…don't attempt what you don't know. Dear 'Endia'" he said, in another one of his tweets. He further advised India not to spend huge amounts of money on things like space exploration.
Fawad Chaudhry is Pakistan's minister for science and technology, and quite frequently makes it to the news for his goof-ups, and almost never for his contribution towards the development of science & tech in Pakistan. Some of his notable moments include confusing 10 million to 100 million, Arya Stark as a Kashmiri pallet shot victim and his inability to spell 'satellite'. His biggest achievement till date has been launching an Android app that locates and let you see the moon, which is also pinned on his Twitter profile.
When called out for his remarks from both, the Indian and Pakistani sides, Chaudhry termed the dissidents as 'trolls' to seek his way out. Chaudhry later tweeted with #IndiaFailed and started a chain of tweets primarily originating from Pakistan.
The Pornstar Conundrum
Earlier this week, Pakistan's former High Commissioner to India Abdul Basit shared an image that was a screenshot from one of Johnny Sins' porn videos. It all happened when Basit retweeted a picture of Sins, mistaking the adult actor for a Kashmiri protester who had lost eyesight owing to a pellet attack.
"Yousuf from Ananthnag,,,lost vision due from pellet…pls raise your voice," Basit captioned the picture.
Sins presently took to Twitter to assure his vision was fine, and also to congratulate Basit for the whole new lot of followers he had inadvertently garnered thanks to his goof-up.
"Shout out to @abasitpak1 for all the new twitter followers! Thanks but my vision is fine," @JohnnySins tweeted.
Shout out to @abasitpak1 for all the new twitter followers! Thanks but my vision is fine😂😂 https://t.co/Rk4QdiGBlq

— Johnny Sins (@JohnnySins) September 3, 2019
Basit's post became a joke on social media after Pakistani journalist Naila Inayat brought it to focus. Inayat posted screenshots of the retweet, and her post went viral in no time. The tweet had over 6000 re-tweets before the former envoy deleted it.
German-Japanese 'borders'
Prime Minister Imran Khan isn't safe from his blunders either. Recently, an old video of Khan resurfaced online which had left many scratching their heads.
The video saw Khan saying, "The more trade you have with each other, your ties automatically become stronger. Germany and Japan killed millions of their civilians until after the Second World War they decided that…on the border, on the border region of Germany and Japan, to have joint industries." He really kept harping on the 'border' and the 'border region' these two countries share. The video also shows a series of confused delegates,  puzzled at this newly revealed geographic boundary.
This isn't his first. The Prime Minister was also caught referring to Africa as an "emerging country" in 2018 when in a speech during the Envoys Conference on Economic Diplomacy in Islamabad. It doesn't end here either, here's a gem of a video of PM Khan saying that China is developing trains that are faster than the speed of light.
The UN Humiliation
Kashmir has been a bone of contention between India and Pakistan since 1947 and the South Asian neighbours have fought multiple fully fledged wars and a limited conflict over the disputed region.
Back in 2017 their representatives had been involved in a bitter war of words at the UN General Assembly. Pakistan's then Prime Minister, Shahid Khaqan Abbasi, accused India of "war crimes" in Kashmir and of "exporting terror" to Pakistan.
Replying to Indian External Affairs Minister Sushma Swaraj's speech at the Assembly on Saturday, Pakistan's UN Ambassador Maleeha Lodhi had held up a photograph of a woman whose face was peppered with alleged pellet gun wounds.
"This is the face of Indian democracy," Lodhi claimed.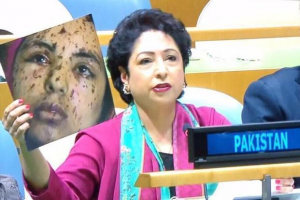 However, the picture turned out to be of 17-year-old Rawya abu Joma'a of Gaza, an alleged victim of an Israeli attack was actually taken by award-winning American photo journalist Heidi Levine in July, 2014. The picture is available on multiple news websites.
Quite evidently, the picture has no connection with Kashmir. Lodhi, who is quite active on social media, including on Twitter, was silent after it emerged that she posed a fake picture during her right of reply at the UN General Assembly.
The Permanent Mission of Pakistan to the UN also did not immediately respond to a PTI query on Lodhi's apparent use of such a picture.
This resulted in a huge backlash from both the Indian and Pakistani sides. Did the Pakistani ambassador even do her homework before appearing in front of the UN? Doesn't look like she did.
The irony here is a country's 'science minister' advising an emerging space power not to invest in space exploration. Pakistan's space research agency, SUPARCO, on the other hand doesn't even possess the capability of creating and launching satellites – something that they wish to achieve by 2040.
The minister's comments only prove that the country doesn't believe in space exploration, and would rather launch Android apps to explore the moon than rovers.
What the other incidents prove is how irresponsible the Pakistani leaders and diplomats are in representing their country or standing up for causes they believe in.
Here are some remarks from heads of Asian nations, please compare it to the remarks expressed by Pakistan's federal ministers.
The Deputy Prime Minister of Vietnam wrote on Twitter "#Chandrayaan2: success doesn't come easy, it's a long journey with a lot of efforts and it is worth to try. My appreciation to
ISRO & India. This is just the beginning of a story."
The Prime Minister of Bhutan wrote on his Twitter profile "We are proud of India and its scientists today. Chandrayaan-2 saw some challenges last minute but the courage and hard work you have shown are historical. Knowing Prime Minister Narendra Modi, I have no doubt he and his ISRO team will make it happen one day."
"India can & should be proud of its great teams of ISRO scientists who have made it a world leader in Space Science & practices. I am glad I followed the Live broadcast together with so many people in India & around the world. Getting where ISRO got is a great success by itself." said Israel's former ambassador to India, Daniel Carmon.
By Daniel Warsaw
Daniel is a freelance writer, and an expert in South Asian geopolitics.