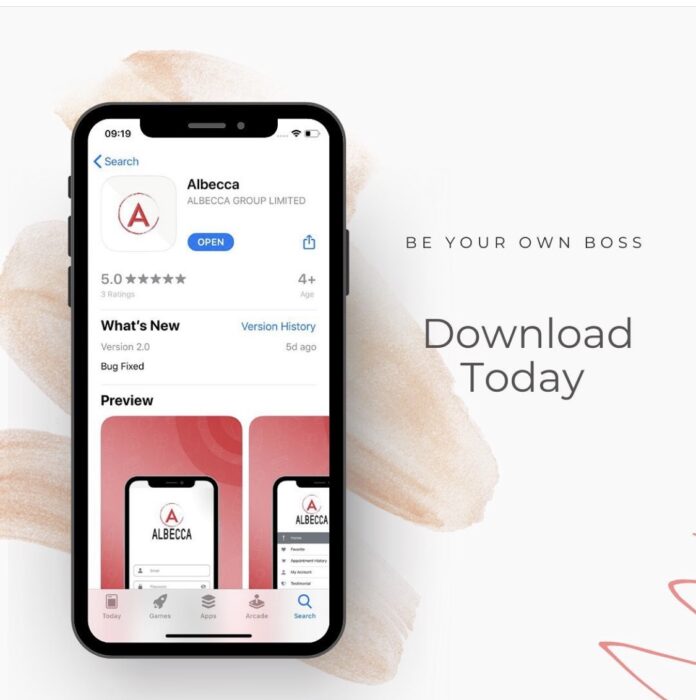 Before Covid-19, the at-home beauty tech sector was already primed for growth. But the pandemic has given it one giant push.
Albecca, A cutting-edge mobile app marketplace that uses GPS technology to connect hair and beauty professionals to clients within their geolocation was launched in June of 2020 at the peak of the first wave of coronavirus in the UK to offer clients, safe call out-services in the comfort of their homes while abiding by covid regulations.
With the second lockdown in full effect and salons around the UK not allowed to operate this mobile app has seen steady growth in demand across the country especially among university students and urban residential communities who believe using the app is a great way of supporting the local hair and beauty industry.
Unlike most mobile apps the Albecca app is completely free to hair and stylists and clients only pay a £2.50 platform/card processing fee for booking.
The company recently launched its "look good to feel good" advertising campaign in support of mental health awareness. A spokesman for the app and sales executive for the company Aron Hopkins said "As a company, we feel obligated to advocate for mental health especially in this time of a global epidemic there is so much fear and uncertainty in the world today this is why we at Albecca have partnered with a few celebrities/influencers to offer free services to there fans who also use our mobile app Winners would be randomly selected weekly by our celebrities/influencers during an Instagram live session staring from mid- November all through to Christmas. we believe this gesture tho small would help improve the mental health of people as they stay home through this lockdown".
So far customer reviews have been impressive, More and more stylists are partnering with the Albecca app and the app seems to be on a quest to have partner stylists in every city across the UK.
But we would have to wait and follow this journey to see what the future holds for a mobile app company that dared to be a pacesetter, jumping into a relatively new market created by a pandemic.